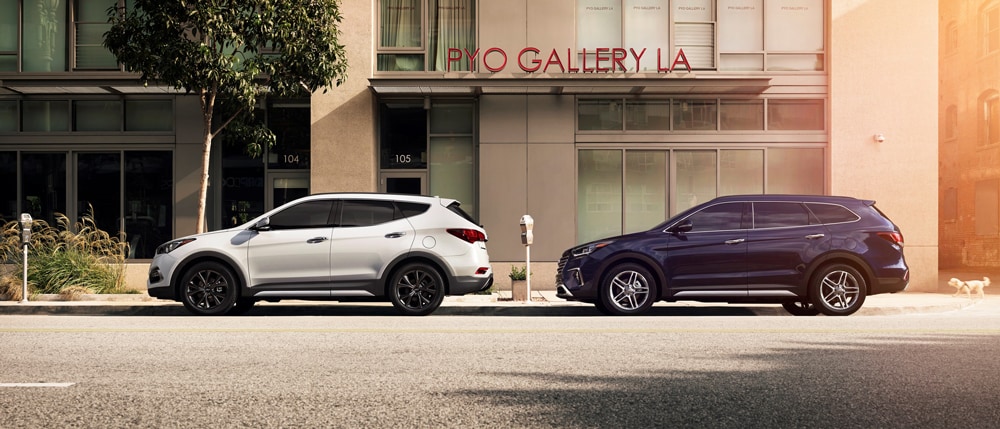 Hyundai Santa Fe Sport (left) vs. Hyundai Santa Fe (right)
Hyundai Santa Fe vs. Hyundai Santa Fe Sport
To Sport or not to Sport. That is the question we will help you answer right now. You are looking for an SUV and you decided you want to get a Hyundai Santa Fe. The only question now is do you want the 2017 Santa Fe or the 2017 Santa Fe Sport? Let's compare them and see which one is right for you.
Comparing both cars at their base model, according to Edmunds.com, it is clear right off the bat that the 2017 Hyundai Santa Fe Sport is less expensive. About $5,000 less, actually. And the MSRP for the Santa Fe Sport is much closer to its true market value than the Hyundai Santa Fe. The Santa Fe Sport also has a lower five-year True Cost to Own®, and lower depreciation value.
That being said though, the Hyundai Santa Fe comes with a 3.3-liter V6 engine while the Santa Fe Sport has 2.4-liter I-4 engine with far less horsepower and torque compared to the Hyundai Santa Fe. The Hyundai Santa Fe also comes with more standard and optional interior features and safety features than the Santa Fe Sport. 
The Hyundai Santa Fe is also more spacious, with 80 cubic ft. of total cargo space versus the Santa Fe Sport's 71.5 cubic feet. The Santa Fe also features seating for seven passengers while the Santa Fe Sport seats five.
Now, we can tell you the pros and cons of both of these models, you can look at pictures on our website and notice the differences, but the only way to truly know which one is better for you is to come into the dealership and give them both a test drive to see which one truly feels right. We proudly sell and service Hyundais for Akron, Hudson, New Franklin, Cuyahoga Falls, and Kent. If you have any more questions on either of these two vehicles, please feel free to contact us on our website.